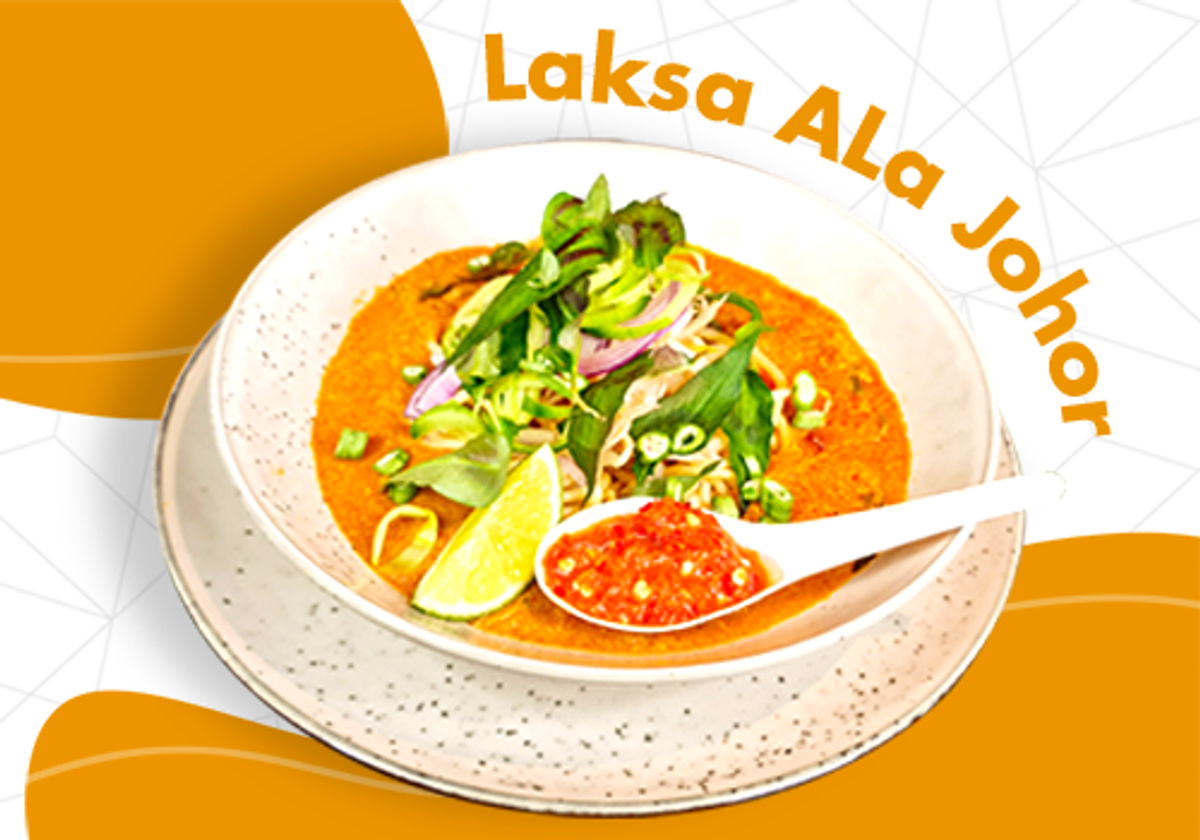 Recipe : Ala Johor Laksa
Preparation time : 25 minutes

Cooking time : 45 minutes

Total servings : 6 pax
Ingredients:
Ingredients to blend:

Shrimp shelled stock - 2 Liters
Shrimp meat - 300gm
Tuna in can - 800gm
For soup gravy:
Red onion - 5 [blend well together]
Garlic - 6 cloves [blend well together]
Ginger - 3cm [blend well together]
Candleberry nut - 6 nuts
Dried shrimp/Dried krills - 50gm or 1 cup
Belacan - 2cm
Galangal (smashed) - 4cm
Lemongrass (smashed) - 2 sticks
Dried chili (blended) - 1 ½ cups
Meat curry spices powder - 3 tablespoons

Coriander powder - 1 tablespoon
Coconut milk - 800ml
Thai basil leaves - 1 bunch
Coconut (desiccated toasted) - 3 tablespoons

Gula melaka (Palm sugar) - 1 tablespoon
Turmeric sliced (Asam keping) - 2 slices

Salt and Sugar - To taste
For Ulam:
Beansprout - 100gm
Long bean - 3 long sticks

Thai basil leaves - 3 stalks
Cucumber (slice thin) - 1 stick
Red onion (Slice thin) - 1
Torch Ginger flower - 1
Side ingredients:
Spaghetti - 1 packet
Sambal belacan - 2 tablespoons

Lime - 4

Methods:
First, prepare the shrimp skin stock by boiling the shrimp skin and head with onion, garlic, ginger, and lemongrass. Let simmer for 20 minutes and strain.

Pour the boiling water back into the pot and add the tuna and shrimp filling and let it cook for 15 minutes. Turn off the heat, let it cool for a while and grind with water until it breaks down.

Then, heat a pan, add oil and sauté the blended ingredients until fragrant.

After that, add the blended dried chillies followed by the curry spice and coriander powder. Saute until the oil breaks.

Pour in the fish and shrimp ingredients and mix well. Let it cook for a while.

Add the asam keping (turmeric sliced), kesom leaves (basil leaves), Malacca sugar(Palm sugar) and keresek(Dessicated coconut).

Finally pour in the coconut milk and let it simmer until the gravy is bubbling (medium to large flame). Season with salt and sugar

Serve with spaghetti, side dishes and sambal belacan.